Personal Profile
Dory Selinger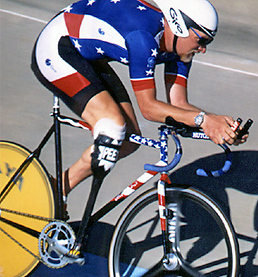 Transtibial (TT), Below the Knee (BK) amputee since 1993, Three-Time World Record Holder: National, European and World Champion
Hometown: Oakland, CA
Birthplace: San Francisco, CA
Birth Date: October 13, 1971
Height: 6'2" Weight: 185 Gender: Male
Classification: Amputee (LC2) then would be a C4 today
USCF Category: 2 Track, 3 Road
Disability Acquired: Assaulted by a car while riding his bicycle (Amputation: right leg, below the knee, Transtibial).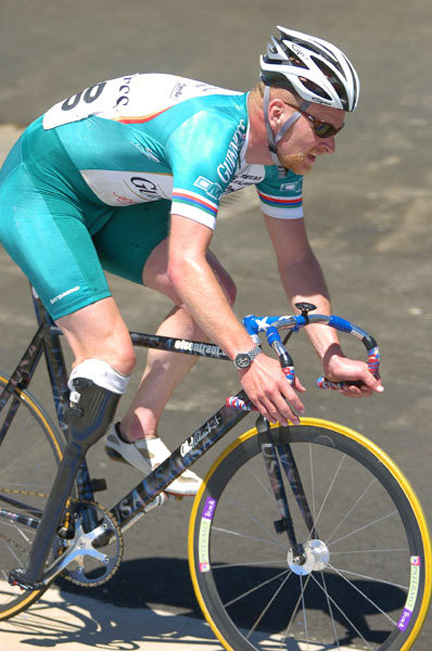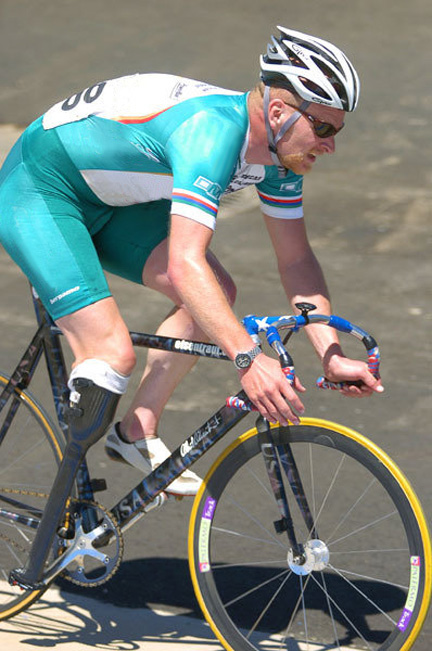 Present History: Dory is now a Licensed and Certified Practitioner of Prosthetics and Orthotics in California's Monterey Bay Area. The year of 2002 was a year of beginnings and endings for Dory's International Cycling. Cycling is still a part of his life when work and family allows. He married an intelligent, beautiful and talented woman and now has two wonderful children who amaze and delight him. They take more time and energy than his training ever did. His last championship came in 2002 at the World Championships. Dory believes that success still continues with his efforts and other of his generation in bringing increased awareness to amputee cycling. Dory is just as proud this as his gold medals.
Dory's creativity and ideas were instrumental in the peg leg/adjustable socket prosthetic design that helped him win Gold in the 1996 Georgia Paralympics. He was mobbed after his 1996 Kilo win. All the cyclists wanted to see his prosthetic leg; it was significantly different from theirs. His peg leg design utilized physics to increase the efficiency of the leg's force through it's prosthesis and is now the design of choice in competitive and recreational amputee cycling, throughout the world. It revolutionized amputee cycling much like the Fosbury Flop revolutionized the high jump.
Dory is now working on "Project Socket", a Scientific Study of the efficiency of energy expenditure used in various prosthetic socket designs and suspension systems. He wants to change the way the socket it perceived in the world of Prosthetics. It is his hope that his study will assist all BK/TT and AK/TF amputees (non athlete and athlete alike) in maximizing their functional mobility while reducing their energy expenditure.
To Participate or Contribute to Project Socket, Contact Dory.
Dory has been making custom 3S liners and adjustable back wall sockets since 1995, posterior below the knee amputees and anterior for above the knee amputees.
Dory's ride to Paralympic history began with "fragility". It was a typical morning ride with his teammates in 1993 when a car came from nowhere and slammed into them all, killing his friend, mangling his leg, and placing him in a coma for seven days. Life changed in an instant for Selinger, but not just in the physical sense. Through the grief and the heartache of a lost teammate, through the pain and struggle of an agonizing rehabilitation, one constant, focus helped Selinger persevere, the bike. It was a love for cycling that rescued him from despair, inspired him to regain his strength, and drove him to become something even greater than himself.
Dory has been making custom 3S liners and adjustable back wall sockets since 1995, posterior below the knee amputees and anterior for above the knee amputees.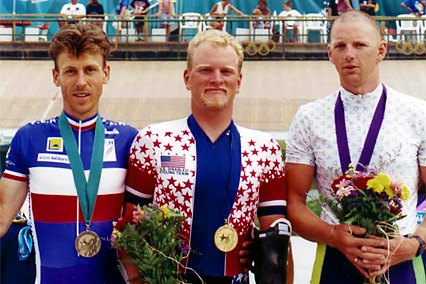 Selinger is one of American's best-known Paralympic cyclists. He has claimed repeated national titles in track, road racing, and time trial competitions in the Disabled Division at the U.S. Cycling Championships. Dory began by winning Gold at the 1996 Paralympic Games in Atlanta, GA. He then was victorious at the 1998 and 2002 World Championships and the 1999 and 2001 European Championships. He was invited by the International Cycling Union (UCI) to participate in the 100th Birthday Celebration to commemorate the establishment of Olympic Cycling. Dory completed the April 2000 Centennial Celebration ride from Paris, France to Lausanne, Switzerland with Europe's cycling elite.
Dory has held two world records as well as every U.S. velodrome record for cyclist in his classification.
CONTACT DORY